Complete clearance with the Office of Student Accounts.
The Non-refundable $100 Housing Reservation Fee MUST be paid to reserve a room.
Register for Housing with 12 credit hours, YOU MUST HAVE 12 CREDIT HOURS TO KEEP YOUR ROOM RESERVATION.
BE EDUCATED. BE EMPOWERED. RESERVE YOUR SPACE!
Make sure you are financially cleared for the Fall 2021 semester.
Register for Housing with 12 credit hours, YOU MUST HAVE 12 CREDIT HOURS TO KEEP YOUR RESERVATION.
Students must pay a non-refundable $100 Reservation Fee at the EWC Cashier's Window, online by visiting the Student Account's page, or over the phone by calling 904-470-8246.
Clear all institution holds. Holds will prevent room assignments.
Check your available financial aid, or other funding sources, to be certain you have enough funding for your educational costs. See your financial aid counselor. Don't procrastinate!
Communicate with Preferred Roommate about where you will reside – Both must qualify for selected building.
Housing assignments are made on a first come, first serve basis.  Incomplete applications will not receive room assignments until all requirements are satisfied.
August 31, 2019 07:00:00 PM
The Edward Waters College Emergency Management Team continues to closely monitor Hurricane Dorian, which is expected to be a Category 4 hurricane upon landfall in Florida.
Due to the easterly trajectory of the storm and its current speed, it has been determined that movement of the remaining on-campus students from their residence halls to the JWJ facility will not occur until further notice. Cafeteria hours will operate regular weekend hours on Sunday, September 1st and adjusted hours for Monday, September 2nd. Brunch will be from 11:00a.m. – 1:00p.m. and dinner will be from 5:00p.m. – 6:00p.m.
Be advised, you will receive official communication from the College via email, social media, the EWC Website, and Tiger Alert throughout the duration of the storm. We will continue to monitor weather conditions and update you accordingly.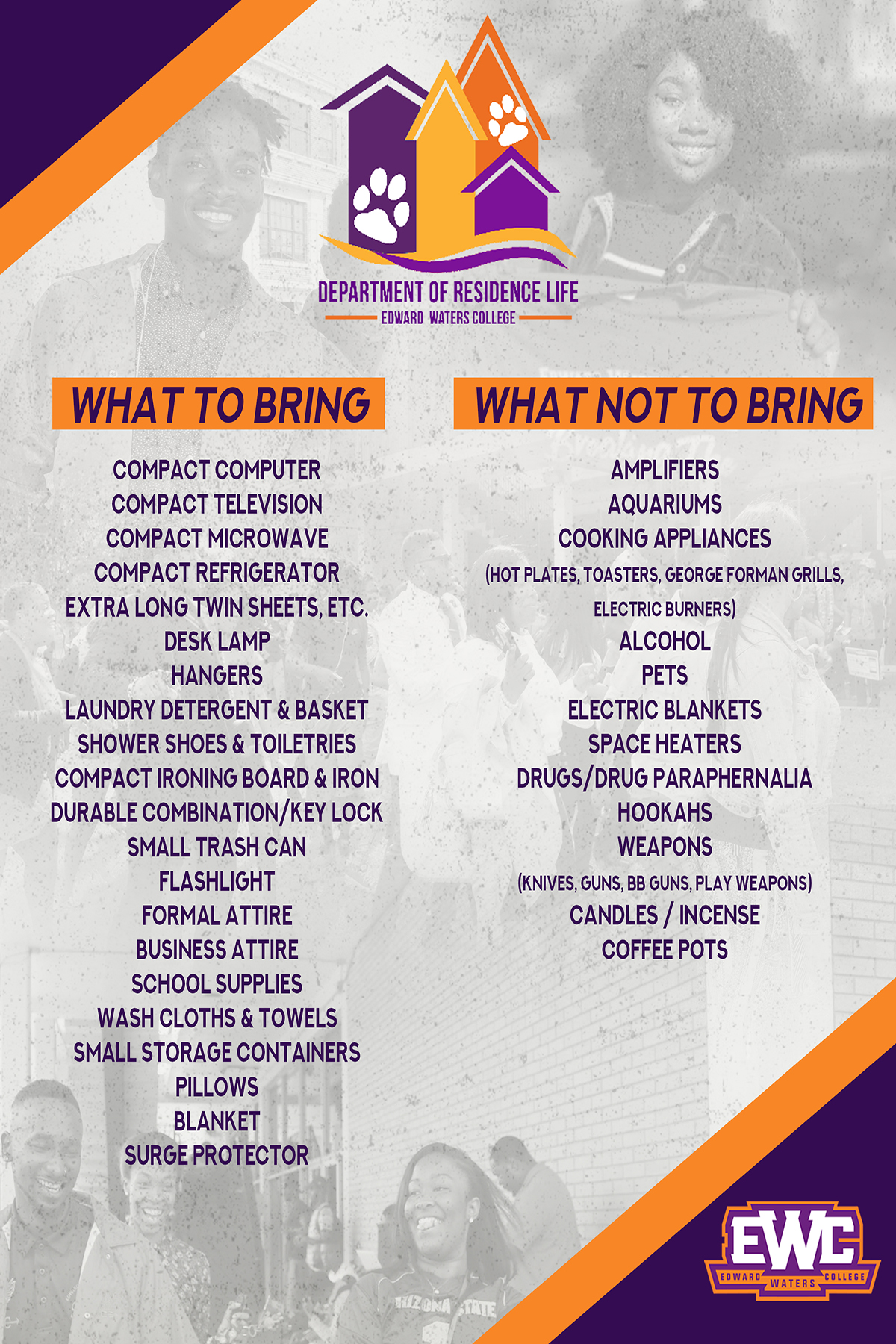 The Mission of Residence Life and Housing is to provide a living learning experience that that supports all residential EWC students. We strive to create a safe wholesome living and learning environment that is conducive to the overall development of our students that aids in their academic success, leadership development, positive decision making and responsible citizenship. Services are provided to our students in a friendly, courteous and efficient manner which helps to promote academic success.
Mr. Quentin McBeth
Assistant Director of Housing Operations
904-470-8870
August 16, 2019
10:00am
Milne Auditorium
*All incoming Freshmen students are mandated to be in attendance for this occasion. Freshmen female attire is black skirts and white blouse. Male Freshmen attire is black dress pants, white collar shirt and neck tie.
Business Accreditation
Jacksonville, Fla. – Edward Waters College is proud to announce that the Department of Business Administration has been granted the highly esteemed International Accreditation Council for Business Education (IACBE) accreditation — a nationally and internationally based accreditation. The Department initiated a relationship with IACBE through membership status. Over the years, the EWC Department of Business Administration has proven itself worthy of this highly sought after status.
"The Department of Business Administration strives to prepare our students for responsible positions in business, industrial, and government entities. This accreditation signifies that we are training our students beyond the basic standards. In addition, we are training our students to be confident, competent, ethical, and responsible business managers and leaders in the today's society," said Dr. Francis Ikeokwu, chair of the business department at Edward Waters College. "We will continue to apply our students and push them as they develop and graduate from our program and the College."
According to their Web site, the IACBE's accreditation principles are designed to promote and stimulate excellence in business education, and each accreditation principle is linked to one or more characteristics of excellence in business education. IACBE accreditation signifies that the business curriculum and co-curricular experiences provide students with the knowledge and skills needed to function effectively in business and industry. For more information on IACBE visit http://www.iacbe.org.
Edward Waters College has received specialized accreditation for its business programs through the International Assembly for Collegiate Business Education (IACBE) located at 11374 Strang Line Road in Lenexa, Kansas, USA.
For a listing of accredited programs, click here.