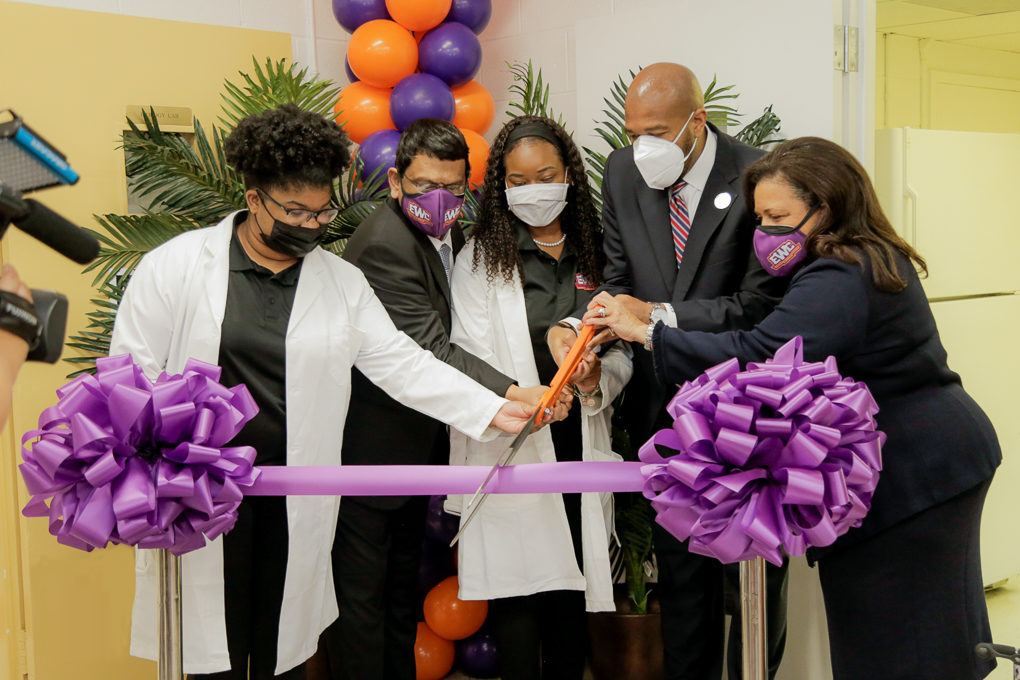 Jacksonville, FL – A newly-renovated state-of-the-art biology laboratory was unveiled earlier today at Edward Waters University (EWU). The quarter of a million dollar academic facilities upgrade is just one of many improvements to the academic spaces, residence halls, athletic facilities and upgrades in campus technology that have been completed recently or planned for 2021. Collectively, these improvements are significantly enhancing the overall instructional and experiential environment for students at the state of Florida's first independent institution of higher education and Historically Black College or University (HBCU).
Owing to age and many years of use preparing students in STEM disciplines for graduate education and careers in medicine, dentistry, allied health professions, biological and biomedical sciences, the laboratory facilities in the University's Hatcher-Stewart main academic building was in desperate need of major upgrades and repair to include replacement of outdated the equipment, technology and supplies. As a result, the University invested $250,000 dollars to provide for the comprehensive renovation of the campus biology laboratory; and, subsequently, the department faculty recommended that modern workspaces, SMART classroom features, microscopes and other equipment be included.
"The renovation of the biology lab is a tremendous step in enhancing the student's hands-on laboratory experience in biology courses and scientific research at Edward Waters University," said Prabir K. Mandal, Ph.D., chair, department of mathematics and sciences, and professor of biology. "No student will be left behind in the laboratory research or intramural internship experience. This new and ambient laboratory environment is conducive for in-house research and allows the mentor and mentee to work together quite well."
"I recall the first time using a microscope at EWU and how truly amazed I was at all that I could see from something so simple," said Ms. Jada Harvey, Presidential Scholar and junior biology student. "I am grateful to President Faison and his administration for improvements such as these that equips young minds for success in further achievements. Thank you, thank you, thank you for this renovation and for the additional projects we know are in store for us."
"The transformation of Edward Waters University continues with the full renovation of this essential academic and scientific space that will now better serve students in one of our most popular and market relevant academic majors," said Dr. A. Zachary Faison, Jr., president and CEO. "Our eminence will continue to emerge as we prioritize strategic institutional investments that enhance the learning experience of our Tiger scholar students and further augment efforts to increase faculty research and scholarship," he added.
The following wide-ranging projects span across the campus and have been or are in the process of being completed to the benefit of the collective academic community at Edward Waters University:
Establishment of SMART classroom technology in every EWU classroom.
Beginning fall 2020, personal Chromebook laptop computers provided to every first-time full-time EWU student through the year 2025.
Global Learning Management System (LMS) to enhance online and distance learning.
Comprehensive technology, server and Wi-Fi upgrades.
New laptops for all members of the EWU faculty and staff.
New customer relationship management (CRM) system to support retention and overall enrollment growth.
Master key system in all residence halls including electronic door-access control systems in student residential and academic facilities.
Campus wide installation of electronically monitored digital campus security system in all campus student residential facilities, academic, and administrative buildings.
Forthcoming: Comprehensive renovation of Criminal justice laboratory and complete technology enhancement.
Forthcoming: New Campus ERP (Enterprise Resource Planning) system.
More information on other projects will be available as they are completed.
###
View Additional Photos from the event below:
About Edward Waters University
Edward Waters University (EWU), accredited by the Southern Association of Colleges and Schools Commission on Colleges (SACSCOC) and member of the United Negro College Fund (UNCF), is a private, historically black, urban college which offers a liberal arts education with a strong emphasis on the Christian principles of high moral and spiritual values. EWU was established in 1866 and is an African Methodist Episcopal Church-related institution of learning. It is the first private institution of higher education in the state of Florida.