See Our Current Openings:
The Mission
The Office of Human Resources and Administrative Services provides excellence in employee services leadership in support of the academic mission and our customers. We succeed by earning the satisfaction of our customers, the trust and respect of those who govern us, support us and do business with us; and the pride of our employees.
Edward Waters College (EWC) is home to a diverse and dedicated workforce who helps to make this institution a great place to learn and work. The role of Human Resources is to support Edward Waters College through a variety of programs and services designed to inspire performance and achievement at the highest level on behalf of the College's mission.
Employee Benefits
Employee Benefits
We help our employees grow and pursue their passion. Our philosophy is to support the total well-being of each person. EWC benefits help you perform at your best – at work, at home, and in the community. EWC offers competitive total rewards packages for eligible employees. Health and wellness options include:
• Florida Blue Preferred Medical (PPO)
• Humana Dental Insurance
• 403(b) Plan
• EyeMed Vision Care
• Colonial Life Insurance
• Supplemental Insurance
• Employee Assistance Program (EAP)
Paid Holidays
The College observes the holidays listed below by the closing of all departments and offices except when continuous service is essential. Paid holidays are available to EWC employees who qualify. Although non-exempt (or hourly) employees may observe College recognized holidays and special holidays granted by the President and Chief Executive Officer during a temporary/seasonal assignment, it should be noted that the needs of our students will dictate staffing schedules. Non-exempt temporary/seasonal employees may only be paid for actual hours worked as reflected on the timesheet.
New Year's Day

Dr. Martin Luther King, Jr. Day

Good Friday

Easter Monday

Memorial Day

Independence Day

Labor Day

Veteran's Day

Thanksgiving Day

The Day After Thanksgiving

Christmas Eve

Christmas Day
Employee Self Service Portal
Employee Self Service Portal
The Division of Finance, Administration and Business Innovation would like to invite all EWC faculty and staff members to access their paystub(s) online through the Employee Self Service portal.   
The web portal has three modules:
1.    Time Management;
2.    Project Time and Expense;
3.    Procurement.
Currently, we have only enabled the View My Paystub feature. The other features will be coming online soon.  We have attached an easy to use step-by-step document showing you how to access the web portal.   
Features coming soon to this web portal are as follows: 
a.    View and Update your W-4;
b.    View and Update your Skills and Training;
c.    View and Update your Profile;
d.    View and Update your Direct Deposit information;
e.    Access, download and print your W-2's.
 Important. Please note this portal can only be accessed through the Internet Explorer web browser.  There are specific compatibility issues with Chrome and Microsoft's Edge web browsers which prevent access and display of information to and from the portal, so please do not use CHROME or EDGE to access this portal.
As we continue to test and enable the other features, please do not enter or submit any information at this time.  
If you have any additional questions, please do call us at 904-470-8150 or email at businessoffice@ewc.edu.  For technical assistance email IT Helpdesk at support@ewc.edu
Employment Verification
Employment Reference & Verification Requests
Requests for employment reference and/or wage verification should be mailed or faxed to:
Edward Waters College
Attn: Office of Human Resources
1658 Kings Road, Suite 204
Jacksonville, Fla. 32209
Fax: (904) 470-8229
Employment references and/or wage verification requests must be accompanied by a signed waiver and/or release. Submissions may be responded to within 7 to 10 business days.
Performance Standards
The Edward Waters College faculty members demonstrate 21st century pedagogy, problem and project-based student engagement, and academically service-based learning strategies.
Furthermore, the EWC faculty is fervently committed to modeling the institution's core values, while ensuring compliance with the principles and policies of Edward Waters College.
Our professionals demonstrate sustained superior performance in modeling the job competencies as described below.
Business Approach: Employees must demonstrate exceptional job-related knowledge and understanding of their specialty or department as applied to our students and the College.
Communication: Employees must share information, concepts, and opinions with others in a relevant and meaningful way that results in clear understanding and desired outcomes.
Customer Focus: Employees must provide a world-class service experience by satisfying internal and external customer needs and building long-term relationships. Once direction is set, employees get results by actively managing and accomplishing objectives with others.
Drives for Results: Employees set and understand goals, and work consistently to reach short-term goals and support long-term strategy. Employees work with an elevated sense of ethics and urgency to deliver results that meet the highest standards of excellence.
Teamwork: Employees coordinate efforts to achieve common goals by communicating openly and leveraging the strengths of all team members.
Our administrators and supervisors demonstrate sustained superior performance in modeling the job competencies above and those as described below.
Strategic and Broad: Our leaders must create effective strategies, built upon a keen understanding of Edward Waters College's business drivers, customer needs, and knowledge of financial, technological, and external influences.
Clear Capability: Our leaders must bring value and depth to their area.
A Decisive "Can Do" Ability to Execute: Our leaders get results by actively managing and accomplishing objectives, and through people they make sure good things happen.
Resourcefully Innovate and Flexibly Adapt: Our leaders see change as an opportunity, constantly learning and creating new ways for Edward Waters College to be successful and grow.
Build Teamwork that Makes Edward Waters College Successful: Our leaders put the needs of Edward Waters College first by building consensus, working across department lines, and taking advantage of the powers of joined forces toward shared goals.
Coach, Delegate, and Ensure Performance: Our leaders set high performance expectations and give people opportunities, feedback, and the latitude to learn and succeed.
Performance management at Edward Waters College is a shared process that is optimized when there is continuous feedback between employees and their supervisors about work expectations, goals and performance. Supervisors and employees are mutually responsible for completing the necessary steps to track and evaluate progress throughout the performance cycle. This collaborative process emphasizes employee engagement and development as a means to maximize work performance and satisfaction, and is designed to facilitate an ongoing dialogue between supervisors and staff members.
EWC values diversity and is an equal opportunity employer.  EWC will make reasonable accommodations for qualified disabled applicants or employees.
Complete clearance with the Office of Student Accounts.
The Non-refundable $100 Housing Reservation Fee MUST be paid to reserve a room.
Register for Housing with 12 credit hours, YOU MUST HAVE 12 CREDIT HOURS TO KEEP YOUR ROOM RESERVATION.
BE EDUCATED. BE EMPOWERED. RESERVE YOUR SPACE!
Make sure you are financially cleared for the Fall 2021 semester.
Register for Housing with 12 credit hours, YOU MUST HAVE 12 CREDIT HOURS TO KEEP YOUR RESERVATION.
Students must pay a non-refundable $100 Reservation Fee at the EWC Cashier's Window, online by visiting the Student Account's page, or over the phone by calling 904-470-8246.
Clear all institution holds. Holds will prevent room assignments.
Check your available financial aid, or other funding sources, to be certain you have enough funding for your educational costs. See your financial aid counselor. Don't procrastinate!
Communicate with Preferred Roommate about where you will reside – Both must qualify for selected building.
Housing assignments are made on a first come, first serve basis.  Incomplete applications will not receive room assignments until all requirements are satisfied.
August 31, 2019 07:00:00 PM
The Edward Waters College Emergency Management Team continues to closely monitor Hurricane Dorian, which is expected to be a Category 4 hurricane upon landfall in Florida.
Due to the easterly trajectory of the storm and its current speed, it has been determined that movement of the remaining on-campus students from their residence halls to the JWJ facility will not occur until further notice. Cafeteria hours will operate regular weekend hours on Sunday, September 1st and adjusted hours for Monday, September 2nd. Brunch will be from 11:00a.m. – 1:00p.m. and dinner will be from 5:00p.m. – 6:00p.m.
Be advised, you will receive official communication from the College via email, social media, the EWC Website, and Tiger Alert throughout the duration of the storm. We will continue to monitor weather conditions and update you accordingly.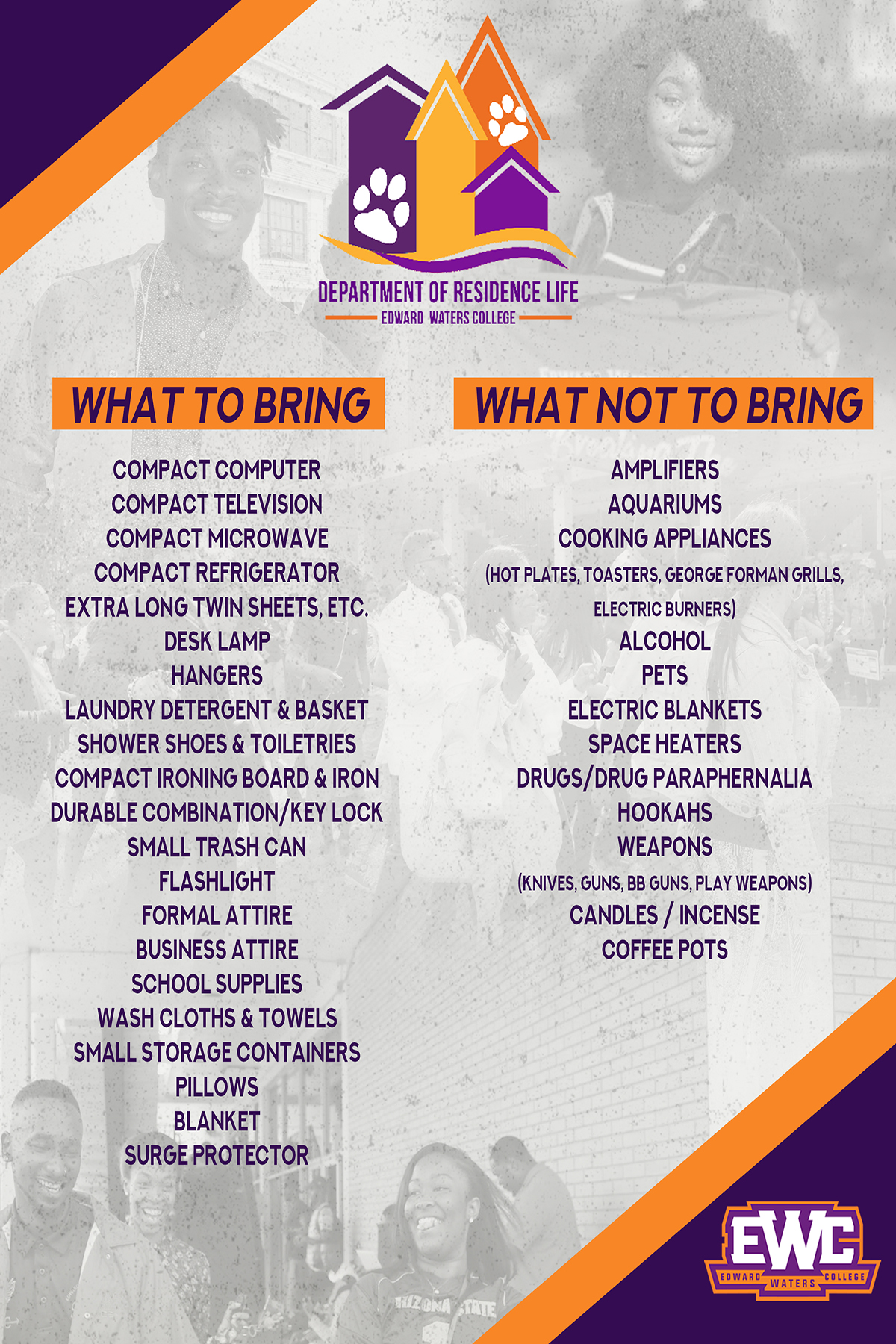 The Mission of Residence Life and Housing is to provide a living learning experience that that supports all residential EWC students. We strive to create a safe wholesome living and learning environment that is conducive to the overall development of our students that aids in their academic success, leadership development, positive decision making and responsible citizenship. Services are provided to our students in a friendly, courteous and efficient manner which helps to promote academic success.
Mr. Quentin McBeth
Assistant Director of Housing Operations
904-470-8870
August 16, 2019
10:00am
Milne Auditorium
*All incoming Freshmen students are mandated to be in attendance for this occasion. Freshmen female attire is black skirts and white blouse. Male Freshmen attire is black dress pants, white collar shirt and neck tie.
Business Accreditation
Jacksonville, Fla. – Edward Waters College is proud to announce that the Department of Business Administration has been granted the highly esteemed International Accreditation Council for Business Education (IACBE) accreditation — a nationally and internationally based accreditation. The Department initiated a relationship with IACBE through membership status. Over the years, the EWC Department of Business Administration has proven itself worthy of this highly sought after status.
"The Department of Business Administration strives to prepare our students for responsible positions in business, industrial, and government entities. This accreditation signifies that we are training our students beyond the basic standards. In addition, we are training our students to be confident, competent, ethical, and responsible business managers and leaders in the today's society," said Dr. Francis Ikeokwu, chair of the business department at Edward Waters College. "We will continue to apply our students and push them as they develop and graduate from our program and the College."
According to their Web site, the IACBE's accreditation principles are designed to promote and stimulate excellence in business education, and each accreditation principle is linked to one or more characteristics of excellence in business education. IACBE accreditation signifies that the business curriculum and co-curricular experiences provide students with the knowledge and skills needed to function effectively in business and industry. For more information on IACBE visit http://www.iacbe.org.
Edward Waters College has received specialized accreditation for its business programs through the International Assembly for Collegiate Business Education (IACBE) located at 11374 Strang Line Road in Lenexa, Kansas, USA.
For a listing of accredited programs, click here.