Dr. A. Zachary Faison, Jr.
is the 30th President and CEO of Edward Waters College. Dr. Faison is a visionary and prolific higher education leader having set an audacious vision for EWC as a destination institution of Emerging Eminence.
The President's Biography
Dr. A. Zachary Faison, Jr. took the helm of Edward Waters College (EWC), the State of Florida's first independent institution of higher education and first Historically Black College or University (HBCU), in July 2018 as America's youngest HBCU President or Chancellor. Since that time President Faison has led in the development and implementation of an ambitious strategic plan and agenda for the institution, titled Eminence 2025. 
Recently named by the Jacksonville Record & Observer as one of Jacksonville's Six Top Newsmakers of 2020, under his leadership and with the support of a dynamically assembled team of dedicated academicians and administrators, EWC has experienced unprecedented success having most notably eliminated the College's formerly existing multimillion dollar net operating cash deficit and achieved the institution's first year-end operating net cash surplus in over a decade at the close of fiscal year (FY 2020). The College has raised its admissions standards in an effort to increase its competitive profile while simultaneously having grown its student enrollment to its highest mark in over fifteen years in Fall 2020. During the 2020 state legislative session and against the backdrop of the COVID-19 pandemic, President Faison led EWC in securing a historically significant $3.5 million-dollar state funding increase in the College's reoccurring state funding allocation paving the way for the forthcoming addition of four new academic degree programs at the College (i.e., undergraduate programs in Computer & Information Science, Social Work, and Forensic Science) including the institutions first graduate degree program (Master of Business Administration) in its 155 year history which it intends to offer in Fall 2021 thereby transforming Edward Waters College (EWC) to Edward Waters University (EWU). 
In addition, under Faison's leadership EWC has earned SACS-COC approval to offer the College's first ever fully online degree program (Bachelor of Business in Organizational Management); Established the inaugural Honors College at Edward Waters securing an initial freshman student cohort (i.e., the Alpha Cohort) boasting an average 4.0 grade point average and nearly 1150 on the SAT; Launched the A. Philip Randolph Institute for Race, Law, Social Justice and Economic Policy; Secured an innovative corporate partnership with Follett Higher Education group to provide six-figure philanthropic support to the College and furnish new Chromebook laptop computers to every new first-time in college full-time Edward Waters College student through the year 2025; and led the contractual renegotiation necessary for the City of Jacksonville to directly fund a $4.4 million-dollar renovation of the College's largest student residence facility and the $4.3 million-dollar new construction of the College's first ever on-campus athletic stadium both scheduled for completion in 2021. Relatedly, President Faison also led EWC in earning an invitation to join the NCAA Division II-member Southern Intercollegiate Athletic Conference (SIAC) which is expected to officially commence later this year (2021) while concurrently adding five new sports to the institution including its first ever women's soccer program, first ever men's volleyball program, and men and women's indoor track programs as well as women's golf in collaboration with THE PLAYERS Championship. The College's rapidly ascending trajectory under President Faison's leadership has been well chronicled as the institution has earned back-to-back-to-back recognitions by the HBCU Campaign Fund as a Top 10 Smaller HBCU Rising for 2019, 2020, and 2021. A native of Atlanta, Georgia, President Faison's career exploits include distinguished professional experiences as a higher education executive administrator, educator, and attorney. Prior to his Presidential appointment, he served as the General Counsel & Vice President of External Affairs at Tuskegee University; Vice President for Enrollment Management & Student Affairs at Virginia Union University (VUU); Special Assistant to the President for Legal & Legislative Affairs, Community Affairs, and Economic Development; Chief of Staff; and Vice President of Institutional Advancement & Executive Director of the MVSU Foundation at Mississippi Valley State University. 
As a scholar-educator, President Faison has held professorial appointments at both the undergraduate and graduate levels in various academic disciplines including Political Science, Criminal Justice, and Business Administration. He is also a former state prosecutor having served as an Assistant District Attorney prosecuting criminal felony drug cases in Georgia. Faison graduated Magna Cum Laude from Albany State University (ASU) with a Bachelor of Arts (B.A.) in English where he was an ASU Presidential/Foundation Scholar, ASU Velma Fudge Grant University Honors Program Graduate, ASU National Merit Scholar Graduate, an inductee of the Alpha Kappa Mu National Honor Society, and upon graduation was awarded for being the highest-ranking student in the University's Department of English & Modern Languages. He attended the University of Georgia School of Law (UGA) where he earned his Juris Doctorate (J.D.) and was a member of the UGA School of Law Executive Moot Court Board & UGA Law Moot Court team. He is a licensed member of the State Bar of Georgia and is admitted to practice before all of the state and federal bars of Georgia. President Faison has completed post-doctoral study as a graduate of the Harvard University Graduate School of Education's Institute for Educational Management (IEM) and was a Millennium Leadership Initiative (MLI) Institute Fellow of the American Association of State Colleges & Universities (AASCU) & Association of Public Land-Grant Universities (APLU). Additionally, he is a graduate of AASCU's New President's Academy and is a Gamma Cohort Fellow of the Higher Education Leadership Foundation (HELF). Faison also holds the Certification in Fundraising Management (CFRM) designation from The Fundraising School of Philanthropy at Indiana University-Purdue University at Indianapolis (IUPUI). 
President Faison maintains active memberships with various local and national civic, professional, and community organizations. In 2020 he was appointed by Jacksonville Mayor Lenny Curry to serve as a member of the JEA Board of Directors (the eighth largest publicly owned electric utility in the United States and largest in Florida). He also serves as a trustee member of the Jacksonville Chamber, is a member of the Jacksonville Civic Council, Leadership Jacksonville, the Rotary Club of Jacksonville, and was recently named an institutional director of the UNCF Board of Directors. Dr. Faison has received regional and national recognition for his outstanding leadership and achievements per his selection as a member of The Business Journals Influencers: Rising Stars 100; the National Bar Association (Top 40 Attorneys Under 40) the Jacksonville Business Journal (Top 40 Under 40) and has been specially recognized and honored by both of his alma maters— The University of Georgia and Albany State University—as amongst each of its respective 40 most distinguished alumni under 40. 
He is the son of Alderman Faison, Sr. and Dr. Jewel J. Faison, and brother to Dr. Morgan Zacheya-Jewel Faison. Faison has been blissfully married for fourteen years to Mrs. Tyciee L. Faison, who is also a seasoned higher education administrator, educator, and seminary trained minister. 
Complete clearance with the Office of Student Accounts.
The Non-refundable $100 Housing Reservation Fee MUST be paid to reserve a room.
Register for Housing with 12 credit hours, YOU MUST HAVE 12 CREDIT HOURS TO KEEP YOUR ROOM RESERVATION.
BE EDUCATED. BE EMPOWERED. RESERVE YOUR SPACE!
Make sure you are financially cleared for the Fall 2021 semester.
Register for Housing with 12 credit hours, YOU MUST HAVE 12 CREDIT HOURS TO KEEP YOUR RESERVATION.
Students must pay a non-refundable $100 Reservation Fee at the EWC Cashier's Window, online by visiting the Student Account's page, or over the phone by calling 904-470-8246.
Clear all institution holds. Holds will prevent room assignments.
Check your available financial aid, or other funding sources, to be certain you have enough funding for your educational costs. See your financial aid counselor. Don't procrastinate!
Communicate with Preferred Roommate about where you will reside – Both must qualify for selected building.
Housing assignments are made on a first come, first serve basis.  Incomplete applications will not receive room assignments until all requirements are satisfied.
August 31, 2019 07:00:00 PM
The Edward Waters College Emergency Management Team continues to closely monitor Hurricane Dorian, which is expected to be a Category 4 hurricane upon landfall in Florida.
Due to the easterly trajectory of the storm and its current speed, it has been determined that movement of the remaining on-campus students from their residence halls to the JWJ facility will not occur until further notice. Cafeteria hours will operate regular weekend hours on Sunday, September 1st and adjusted hours for Monday, September 2nd. Brunch will be from 11:00a.m. – 1:00p.m. and dinner will be from 5:00p.m. – 6:00p.m.
Be advised, you will receive official communication from the College via email, social media, the EWC Website, and Tiger Alert throughout the duration of the storm. We will continue to monitor weather conditions and update you accordingly.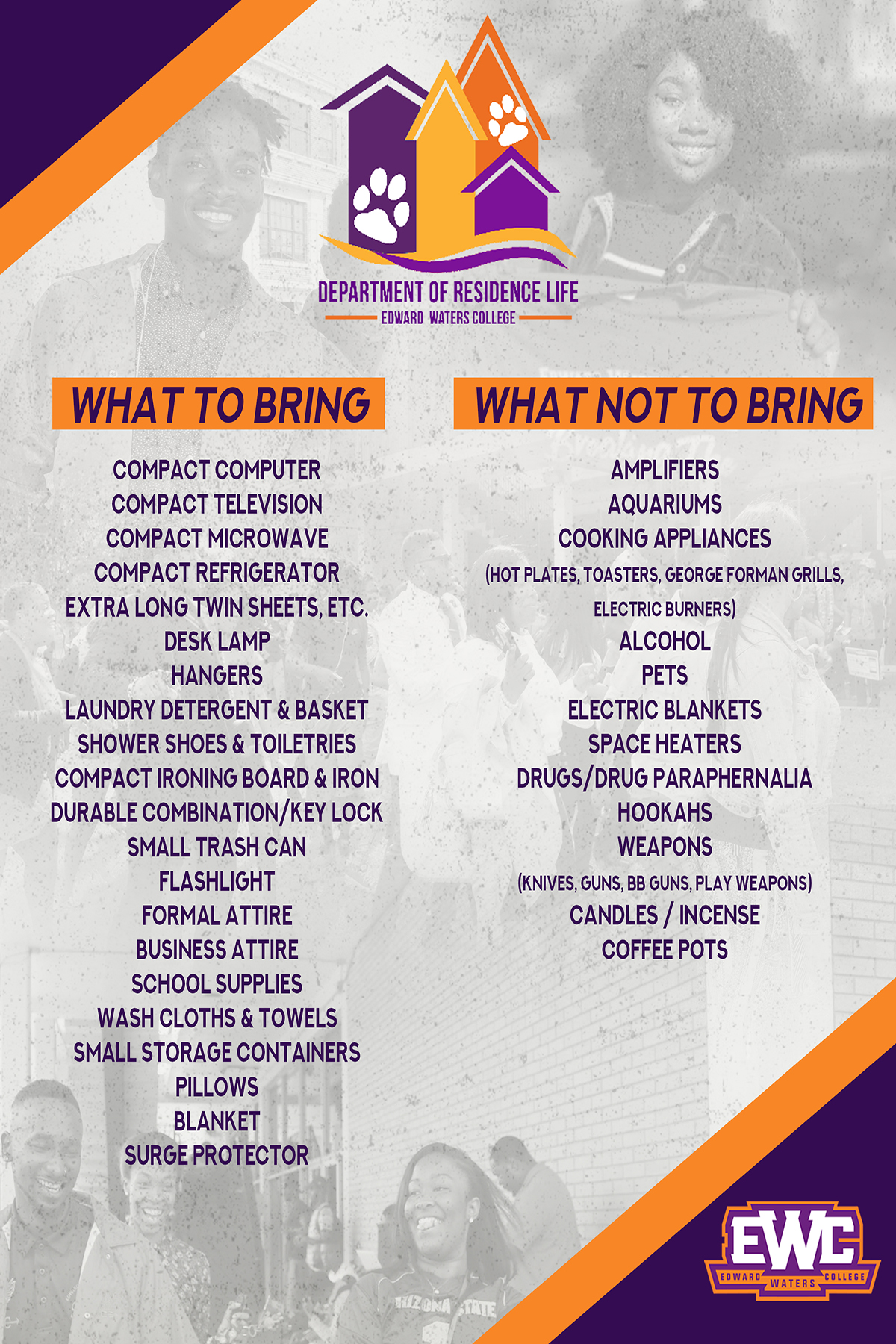 The Mission of Residence Life and Housing is to provide a living learning experience that that supports all residential EWC students. We strive to create a safe wholesome living and learning environment that is conducive to the overall development of our students that aids in their academic success, leadership development, positive decision making and responsible citizenship. Services are provided to our students in a friendly, courteous and efficient manner which helps to promote academic success.
Mr. Quentin McBeth
Assistant Director of Housing Operations
904-470-8870
August 16, 2019
10:00am
Milne Auditorium
*All incoming Freshmen students are mandated to be in attendance for this occasion. Freshmen female attire is black skirts and white blouse. Male Freshmen attire is black dress pants, white collar shirt and neck tie.
Business Accreditation
Jacksonville, Fla. – Edward Waters College is proud to announce that the Department of Business Administration has been granted the highly esteemed International Accreditation Council for Business Education (IACBE) accreditation — a nationally and internationally based accreditation. The Department initiated a relationship with IACBE through membership status. Over the years, the EWC Department of Business Administration has proven itself worthy of this highly sought after status.
"The Department of Business Administration strives to prepare our students for responsible positions in business, industrial, and government entities. This accreditation signifies that we are training our students beyond the basic standards. In addition, we are training our students to be confident, competent, ethical, and responsible business managers and leaders in the today's society," said Dr. Francis Ikeokwu, chair of the business department at Edward Waters College. "We will continue to apply our students and push them as they develop and graduate from our program and the College."
According to their Web site, the IACBE's accreditation principles are designed to promote and stimulate excellence in business education, and each accreditation principle is linked to one or more characteristics of excellence in business education. IACBE accreditation signifies that the business curriculum and co-curricular experiences provide students with the knowledge and skills needed to function effectively in business and industry. For more information on IACBE visit http://www.iacbe.org.
Edward Waters College has received specialized accreditation for its business programs through the International Assembly for Collegiate Business Education (IACBE) located at 11374 Strang Line Road in Lenexa, Kansas, USA.
For a listing of accredited programs, click here.