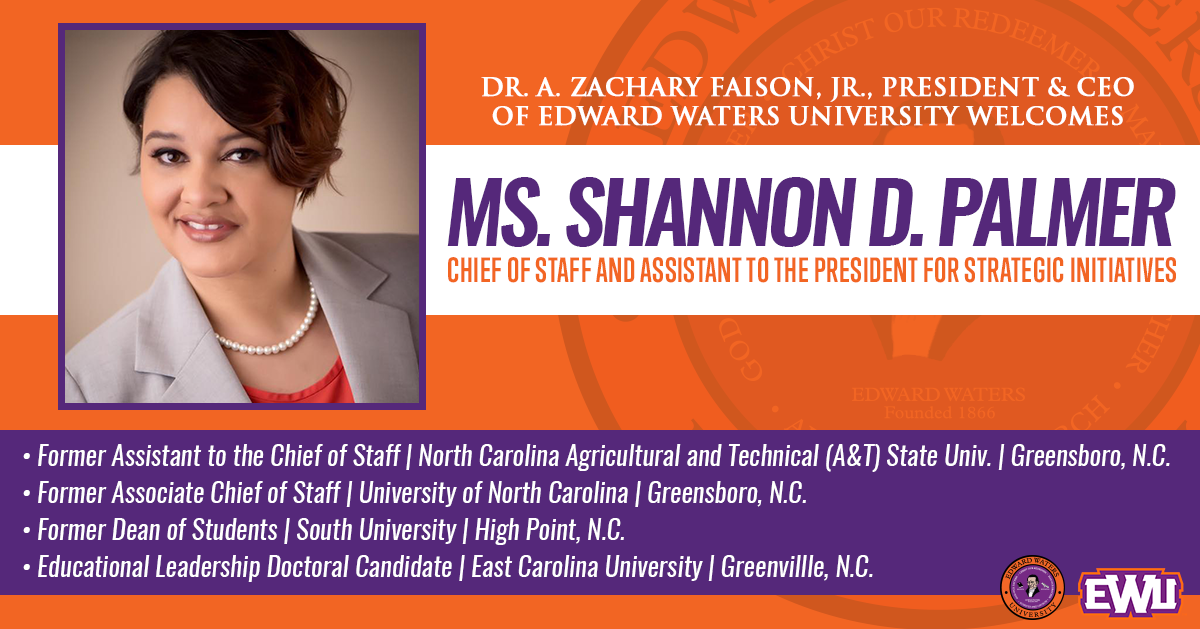 JACKSONVILLE, FLORIDA — Coming with a diverse background as an operational manager, strategic collaborator, communications manager and a liaison to boards of trustees in higher education, Ms. Shannon Palmer has accepted an appointment as the new chief of staff and assistant to the president for strategic initiatives at Edward Waters University (EWU). 
Ms. Palmer will officially begin her tenure, effective July 19, 2021, as a key member of the president's executive cabinet and the senior administrative staff of Edward Waters University. She will report directly to the president, provide direct leadership and operational oversight of the office of the president and assist in managing linkages with other cabinet/senior administrative officers and key stakeholders. Ms. Palmer will also maintain oversight for ongoing projects supporting the president's agenda and maintain primary responsibility for assisting the president in ensuring maximization of the administrative and operational performance of the University to support achieving its goals and institutional mission.
"We welcome Ms. Palmer to our executive leadership team and collegiate community," said Dr. A. Zachary Faison, Jr., President and CEO. "She brings experience and skills to add to our team, to help guide and improve our operations and initiatives, and to help with the historic transformation that is underway at our institution. Ms. Palmer stood out as a candidate for this position in a national search, and I look forward to working with her during these extraordinary times at Edward Waters University."
Ms. Palmer most recently served as assistant to the chief of staff at North Carolina Agricultural and Technical (A&T) State University in Greensboro, N.C. She formerly held posts as associate chief of staff at the University of North Carolina in Greensboro, N.C., dean of students at South University in High Point, N.C. and other student-centered positions at Shaw University in Raleigh, N.C.
"I am excited to join the team at Edward Waters University," said Ms. Palmer. "The institution is on the rise under the leadership of President A. Zachary Faison, Jr., who is entering his fourth year now. I look forward to being part of the growth that is occurring and planned for the future. I enjoy being in the liberal arts setting of Historically Black Colleges and Universities (HBCUs) and will do my best to help build upon the successes of Edward Waters University."
Ms. Palmer earned a bachelor's degree cum laude in English from Shaw University and a master's degree in Education from Abilene Christian University where she was a member of the Texas Psi Chapter of Alpha Chi National Honor Society. Ms. Palmer has participated in numerous experiential learning programs and is currently pursuing a doctoral degree in Educational Leadership at East Carolina University.
About Edward Waters University
Edward Waters University (EWU), accredited by the Southern Association of Colleges and Schools Commission on Colleges (SACSCOC) and member of the United Negro College Fund (UNCF), is a private, historically black, urban university which offers a liberal arts education with a strong emphasis on the Christian principles of high moral and spiritual values. EWU was established in 1866 and is an African Methodist Episcopal Church-related institution of learning. It is the first private institution of higher education in the state of Florida.