The Edward Waters College Distinguished Speaker Series is a student and campus-wide academic and experiential engagement initiative intended to present a robust and varied collection of distinguished and scholarly speakers to the EWC campus community. The new initiative seeks to engage the views, ideas, and espoused ideals expressed by national thought leaders, authors, entertainers, activists, advocates, athletes, educators, business leaders, and opinion shapers who will be featured as a part of the series. 
"The primary aim of the series is to broaden the perspectives of our college community and widen our students' overall academic experience beyond the classroom," said EWC President & CEO, Dr. A. Zachary Faison, Jr. "We intend for this vehicle to serve as a platform to provoke meaningful discussion, reflective and critical thinking, and provide enriching insight and illumination into the critical issues of our time,"
— Dr. A. Zachary Faison, Jr., 30th President & CEO
Charlamagne Tha God
Michael Santiago Render, better known by his stage name Killer Mike, is an American rapper, actor, and activist. He is the founder of Grind Time Official Records, which he launched through the SMC and Fontana Distribution. Mike made his debut on "Snappin' and Trappin'" from OutKast's 2000 LP Stankonia, and later appeared on the Grammy-winning song "The Whole World", a single from Outkast's greatest hits album Big Boi and Dre Present…Outkast. He has since released five full-length albums as a solo artist.
In December 2008, Mike signed to fellow Atlanta-based rapper T.I.'s Grand Hustle Records. In 2012, he released R.A.P. Music, produced entirely by American rapper and producer El-P. Killer Mike and El-P subsequently formed a duo in 2013, branding themselves Run the Jewels; the duo was signed to Fool's Gold Records and released their self-titled debut in June of that year.
Killer Mike is also known as a social and political activist, focusing on subjects including social inequality, police brutality, and systemic racism. In addition to addressing themes of racism and police brutality in his music, he has also delivered several lectures at colleges and universities, written about social justice topics for publications such as Billboard, and been the subject of televised and published interviews regarding police misconduct and race relations. He was a visible and vocal supporter of Bernie Sanders during his 2016 U.S. presidential campaign, and refused to support Hillary Clinton after Sanders left the race.
Killer Mike has been featured in the films 20 Funerals, Idlewild, Baby Driver and ATL. In January 2019, his Netflix documentary series Trigger Warning with Killer Mike premiered.
Charlamagne Tha God
Growing up "Lenard McKelvey" in the small town of Moncks Corner, South Carolina, "Charlamagne Tha God" was once just another kid dreaming of a better life, yet inevitably falling prey to the dangerously glamorized street life. By the time he was 18, the precocious teen, who was no stranger to a few good books by way of his mother, a school teacher, slowed down his rebellious ways and stumbled upon his love for radio during an internship in his town. In just a few years, Charlamagne would be recognized as one of the best voices in South Carolina by the late 90s.
While on the air in Columbia, S.C., Charlamagne drew attention to the local show he hosted on Hot103.9 (WHXT-FM) by distributing his controversial interviews and skits online. His irreverent, "shock jock" interview style, inspired by the likes of everyone from Larry King to Bill O'Reilly to Arsenio Hall, got the attention of then radio personality Wendy Williams, who would quickly take Charlamagne under her wing as an apprentice.
Williams would rebroadcast Charlamagne's interviews on her popular, syndicated radio show, The Wendy Williams Experience. He later joined the program as co-host. Working alongside Williams not only introduced Charlamagne to a new audience, but it also helped strengthen the voice that has defined his career – a voice he now uses to reach audiences in all mediums – from syndicated radio, to television, to print, to digital and new-media.
Presently, Charlamagne is the host and star of MTV2's popular late-night talk show Uncommon Sense with Charlamagne, which evolved from 2014's Charlamagne and Friends. He is also a part of the lead cast in MTV2's Guy Code and Guy Court, a spin-off of the former.
In addition, Charlamagne currently hosts a widely-acclaimed podcast entitled Brilliant Idiots, alongside MTV's Andrew Schultz, where the duo discusses their reaction to both world and pop culture news. Currently, Brilliant Idiots is streamed and downloaded by hundreds of thousands of listeners and fans per episode. The success the show has garnered has opened doors for a "Brilliant" tour, in which Charlamagne and Shultz can be found in different cities around the world, on stage, for a live taping.
As for Charlamagne's first love, radio, the personality currently stars in the hugely popular morning radio show, The Breakfast Club, which is syndicated by Premiere Networks on nearly 100 stations across the nation.  Charlamagne hosts The Breakfast Club, a.k.a. "The World's Most Dangerous Morning Show," out of Power 105 in New York City alongside DJ Envy and Angela Yee, and it is widely regarded as the most informative and entertaining top-rated urban morning show today, dominating both the airwaves and Revolt TV, a music cable network from Sean Combs which simulcasts the program.
Each morning between the hours of 6 and 10 a.m., fans of The Breakfast Club tune in to hear the trio's unrivaled interviews and conversations with celebrities and hip-hop artists, entertainment news, fresh music mixes, along with their signature blend of honesty and humor. It can also be streamed via iHeartRadio.com and the iHeartRadio mobile app.  Fans also have access to Weekends with the Breakfast Club, which features the 20 hottest songs on the charts alongside DJ Envy, Angela Yee and Charlamagne's signature interviews with megastars and hip-hop icons.  The program currently airs on more than 100 stations nationwide.
When he's not on the radio or television studio, Charlamagne – the "Prince of Pissing People Off," the "Ruler of Rubbing You The Wrong Way," and the "Architect of Aggravation," – is still himself, minus the mic. However, this is not to be confused with an inability to remain a humble and hardworking man both in and out of the industry.
In April 2017, "hip-hop's Howard Stern" (Rolling Stone) shared his unlikely success story in his first book: Black Privilege: Opportunity Comes to Those Who Create It.  Published by Touchstone, an imprint of Simon & Shuster Inc., Black Privilege features Charlamagne's comic, often controversial, and always brutally honest insights on how living an authentic life is the quickest path to success. The New York Times Best-selling Author released his second book in October 2018, Shook One: Anxiety Playing Tricks on Me.  In the book, Charlamagne shares his blueprint for breaking free from fear and anxiety.
Charlamagne may be widely and worldly acclaimed these days, but the family fan is still a southern and hospitable charmer from a small town in South Carolina. And so long as he is breathing, he will never forget where is from, and that he beat the odds to become: Charlamagne Tha God.
Tamika Mallory
Tamika Mallory is an activist and national co-chair of the Women's March on Washington. She is an advocate of gun control, feminism and the Black Lives Matter movement.
Mallory was born on September 4, 1980, in The Bronx, New York. Her parents, Stanley and Voncile Mallory, were founding members of Al Sharpton's National Action Network (NAN), a leading U.S. civil rights organization.
Mallory joined NAN at age 11 and was a staff member by age 15. She became the youngest executive director at NAN, stepping down in 2013 to work on behalf of her own activist goals. Following the murder of her son's father, she worked closely with the Obama administration on gun control legislation. In 2014, she was selected to serve on the transition committee of the New York City Mayor Bill de Blasio, helping to create the NYC Crisis Management System. She also served as co-chair for Gun Violence Awareness Month, an initiative through the Crisis Management System.
After the November 2016 presidential election, Mallory and three others organized the Women's March held on January 21, 2017, as a protest against the inauguration of U.S. President Donald Trump. The march also advocated for women's rights, immigration reform, LGBTQIA rights, healthcare reform, environmental reform, racial justice and racial equality. An estimated 500,000 people attended the Washington D.C. march and millions more participated in sister marches across the country, making it possibly the largest single-day protest in U.S. history.
August 31, 2019 07:00:00 PM
The Edward Waters College Emergency Management Team continues to closely monitor Hurricane Dorian, which is expected to be a Category 4 hurricane upon landfall in Florida.
Due to the easterly trajectory of the storm and its current speed, it has been determined that movement of the remaining on-campus students from their residence halls to the JWJ facility will not occur until further notice. Cafeteria hours will operate regular weekend hours on Sunday, September 1st and adjusted hours for Monday, September 2nd. Brunch will be from 11:00a.m. – 1:00p.m. and dinner will be from 5:00p.m. – 6:00p.m.
Be advised, you will receive official communication from the College via email, social media, the EWC Website, and Tiger Alert throughout the duration of the storm. We will continue to monitor weather conditions and update you accordingly.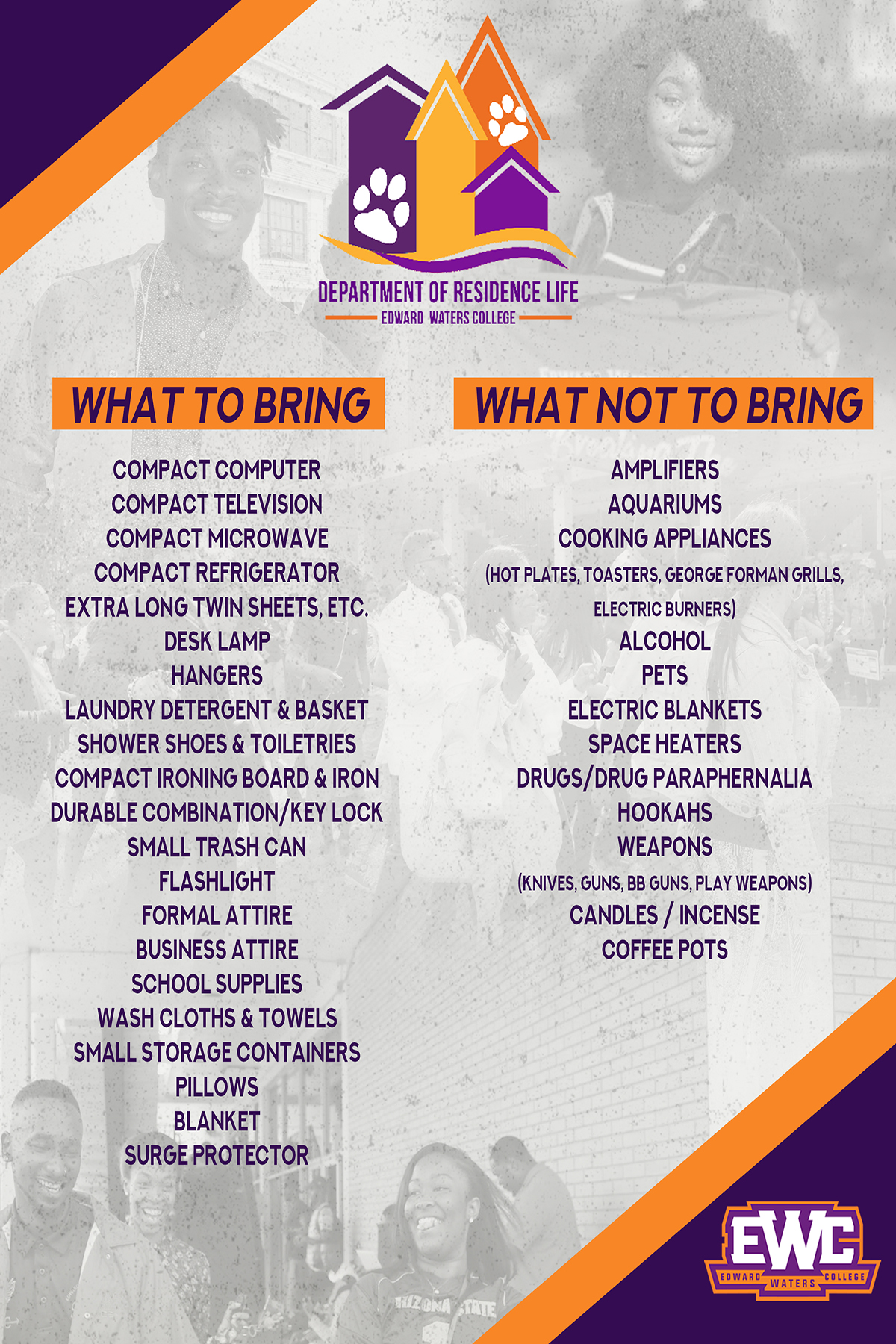 The Mission of Residence Life and Housing is to provide a living learning experience that that supports all residential EWC students. We strive to create a safe wholesome living and learning environment that is conducive to the overall development of our students that aids in their academic success, leadership development, positive decision making and responsible citizenship. Services are provided to our students in a friendly, courteous and efficient manner which helps to promote academic success.
Mr. Quentin McBeth
Assistant Director of Housing Operations
904-470-8870
August 16, 2019
10:00am
Milne Auditorium
*All incoming Freshmen students are mandated to be in attendance for this occasion. Freshmen female attire is black skirts and white blouse. Male Freshmen attire is black dress pants, white collar shirt and neck tie.
Business Accreditation
Jacksonville, Fla. – Edward Waters College is proud to announce that the Department of Business Administration has been granted the highly esteemed International Accreditation Council for Business Education (IACBE) accreditation — a nationally and internationally based accreditation. The Department initiated a relationship with IACBE through membership status. Over the years, the EWC Department of Business Administration has proven itself worthy of this highly sought after status.
"The Department of Business Administration strives to prepare our students for responsible positions in business, industrial, and government entities. This accreditation signifies that we are training our students beyond the basic standards. In addition, we are training our students to be confident, competent, ethical, and responsible business managers and leaders in the today's society," said Dr. Francis Ikeokwu, chair of the business department at Edward Waters College. "We will continue to apply our students and push them as they develop and graduate from our program and the College."
According to their Web site, the IACBE's accreditation principles are designed to promote and stimulate excellence in business education, and each accreditation principle is linked to one or more characteristics of excellence in business education. IACBE accreditation signifies that the business curriculum and co-curricular experiences provide students with the knowledge and skills needed to function effectively in business and industry. For more information on IACBE visit http://www.iacbe.org.
Edward Waters College has received specialized accreditation for its business programs through the International Assembly for Collegiate Business Education (IACBE) located at 11374 Strang Line Road in Lenexa, Kansas, USA.
For a listing of accredited programs, click here.